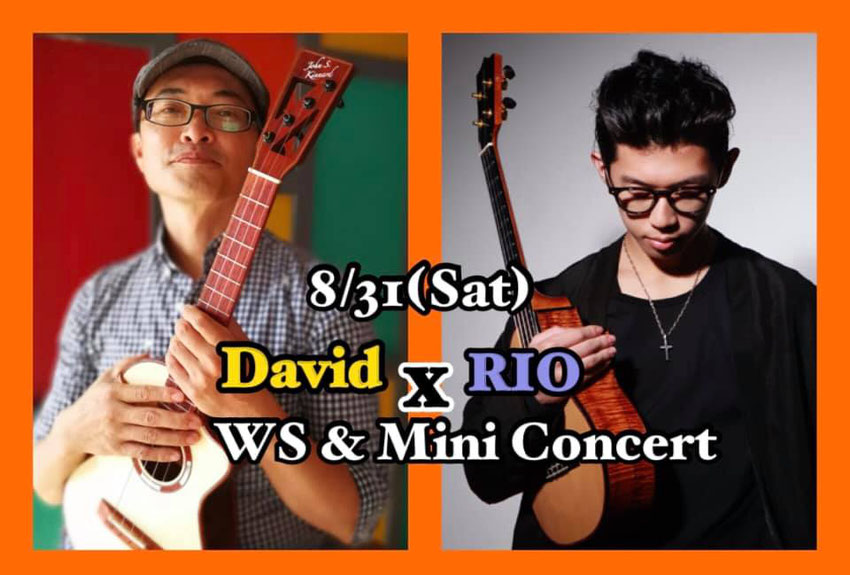 ▪️8/31(土)▪️📍急遽決定📍
🔹David Chen WS + Mini Concert Supported by RIO 🔹
🙌RIOおもてなし企画🙌
僕がいつもアジアでお世話になっている、台湾のウクレレ奏者&指導者である、David Chen さんが東京にてワークショップ、ミニライブをしに来日します!!
ワークショップでは、彼の代名詞でもある「ツーフィンガースタイル」というウクレレのスタイルを皆さんに伝授して頂けることに👏👏
🔻 「ツーフィンガースタイル」 🔻
https://m.youtube.com/watch?feature=youtu.be&fbclid=IwAR015Ben_dB0cAjk5HoLZG1DOo13JiqHHYxa-FF_Au-7LyVxXTslnQWNO9E&v=R9zAC__S6Gg
この「ツーフィンガースタイル」奏法は、Kimo Hussey (キモ・ハシー)スタイルとも言える🔻 🔻
デイビッドのハワイでの師でもある、Kimo Hussey (キモ・ハシー)さんが使う奏法で、☝️初心者の方から上級者の方まで幅広く使えるものです。
☝️ソロウクレレの入門としても凄くオススメです!
☝️僕の印象として、この奏法はウクレレの甘い音、温かい音を出せ、メロディとハーモニーを同時に自然に合わさり、弾きながら寝てしまえるほどリラックスできるそんな癖になるようななんとも言えない魅力を持っている奏法だと、思います!
🔻DavidとKimoさんの演奏🔻
https://m.youtube.com/watch?feature=youtu.be&v=SO5OXFgzzDc&t=480
当日は僕が通訳兼、サポートで入り、ミニコンサートでも一緒に弾かせて頂きます!
☝️滅多にない、レアな機会です!☝️
彼の楽譜、教則本、CDなども当日持参してくださいます。
皆さんなかなか無いチャンスです!
是非ぜひ楽しみにお越しください。✨🔹限定15~17名様🔹✨
🔶詳細🔶
▪️8/31(土)
▪️Beach House Cafe Roppongi
▪️Open 11:30(受付)~ Lunch🍽
▪️12:30~David WS +Mini Concert (supposed RIO)
▪️2800yen(Lunchプレート+drink込)
🍩WSとミニコンサートの間に恒例のスイーツタイム!!
マラサダにスムージー(別途)
▪️予約 ▪️限定15~17名様▪️
RIO :  Facebook message 
Mail : mikivoce@gmail.com
▪️場所 Place
🔹Beach House Cafe Roppongi 🔹
東京都港区六本木7-9-4
03-5843-1614
▪️アクセス🔻下記のサイトよりアクセスから、ご確認下さい
🌴ハワイの隠れ家のようなお店で、まるでハワイに遊びに来たみたいに皆さんと一緒に楽しく演奏しましょう!!🌴
☝️☝️ウクレレ持参☝️☝️
🌈Beach House Cafe Roppongi🌈
▪️Website:https://beachhousecafe.net/
▪️▪️▪️▪️▪️▪️▪️▪️▪️▪️▪️▪️▪️▪️
🔹David's Profile🔹
David Chen from Taiwan who is the president of "Taiwan International Ukulele Association", he is also an ukulele player and educator. David has published the 1st ukulele book in Taiwan and China, he is the most productive ukulele author, so far, has released 7 books and one CD
David is the most active ukulele promoter between China and Taiwan, also he plans the Taiwan & Shanghai Ukulele Festivals, he is also the ukulele teacher in Alibaba which is one of biggest company in China.
David has a big influence from his Hawaiian mentor Kimo Hussey who is "The President of Hawaii Ukulele Guild". Kimo is also one of the most influential ukulele player in the world. Kimo is famous for his unique two fingers style which is a traditional ukulele playing style, under Kimo's instructions, David has released a "two finger style" ukulele tutorial book, and has been invited to do concerts and workshops and ukulele events worldwide.
David has been to Hawaii, Canada, Australia, Prague, Munich, Vienna, Budapest, Korea, Japan, Malaysia, Singapore, Finland etc.
▪️▪️▪️▪️▪️▪️▪️▪️▪️▪️▪️▪️▪️▪️
"Two Finger Style Workshop"
What's two fingers style?
It's a traditional Hawaiian ukulele playing style, which can combine melody/ harmony/ rhythm evenly and also create a very soothing music, it's worthy to explore the special way of playing.
Outlines
- How to play rhythms with two fingers?
- How to play melody with rhythm together?
- How to apply proper rhythms into the songs?
- Songs practice
- Q&A